In this guide, you will learn how to download the Ahrefs free trial. What is Ahrefs free trial? Ahrefs is a popular software tool for tracking backlinks and doing SEO analysis. They have one of the largest pools of Live links and Index plus the capability to index updates in lightening speed. So, if you are a webmaster you need tools to help you increase your search traffic, study your competitors and keep an eye on your niche. This software helps you to learn why your competitors rank higher than you do and the strategies you need to outrank them. Ahrefs software tools include the keywords and content explorer, site audit, rank tracker, extra, alerts, SEO toolbar, batch analysis, domain comparison, content gap, line intersect and so on. However, if you get the 7 days trial, you will be able to test-drive these key tools to analyze your website to get better results. The tools will give a competitive analysis, keyword, backlink and content researches, plus track the rank of websites.
Furthermore, you will get organic Search Report and be able to analyze your competitors' search traffic. And also be able to see the actual keyword your competitors rank higher for in normal search, and the size of traffic each of them have. Another tool in Ahrefs kit, that you can use is the content gap feature. This tool will enable you to find the keywords your competitors rank higher than you do. As you can see, the Ahrefs platform and tools are indeed definitive tools that you need to grow your traffic. Therefore, let us dive in quickly and reveal how you can get the Ahrefs free trial.
Ahrefs trial guideline
You will be charged $7 Dollars for the 7 days trial. It is not really free.
All Ahrefs' plans give you full access to all Ahrefs' tools. There is no separate pricing for one tool.
Even if you can cancel, you will use the accounts functions for 7 days you have paid for. Which is either the Lite or standard plans.
Also, even if you cancel the trial before it ends, you will not get a refund. There is no money-back guarantee.
Note that if you fail to cancel after the 7 days expires you will be billed automatically for a 1-month subscription. So, cancel at the end of the 7th day or earlier.
Features of the Ahrefs tools
You get access to the Backlink checker
And a Website authority checker
Also comes with SERP checker
In addition, you have the YouTube keyword tool
And the Amazon keyword tool
Plus a Bing keyword tool
Finally, you have the Keyword generator
Steps to get the Ahrefs free trial
Here are the steps to get the software.
Visit Ahrefs website at https://ahrefs.com/
And click on Start a 7 days trial at $7.
It will take you to the next page. So, select a plan from the list of plans. Examine and select what you wish to try for 7 days. Just select the most popular which is the Standard plan.
Next, enter your email address. It is necessary for the subscription. And accept the terms of use. And click on continue.
Now, enter the Order details and payment details by inputting your name and credit card information and then click on Next.
Once your credit card details are verified and accepted. You will get the activation email from the Ahrefs team. So, make sure you use the right email you know will be used to login into the Ahrefs' platform.
Your trial starts on the day you apply for it and ends in 7 days so make sure you maximize the Ahrefs free trial, oh I mean to say the Ahrefs trial.
Learn the basics of Ahrefs
To use the 7 days paid trial well, you have to master how to use the tools and the data you have subscribed for. So, you can start by visiting the Ahref's academy, blog, and their Youtube channel. Learn more.
Benefits of the Ahrefs free trial
What you will benefit by using the tools are inherent in the names of these tools. They are:
Do Keyword Research
Get Competitive Analysis
Do Backlink Research
And Content Research
Plus Rank Tracking,
And do Web Monitoring
Limitation Of The Trial
Ahrefs paid trial gives you total access to the features of the Lite and Standard plans. They are valued at $99 and $179 each. Find out what they contain in the price and plans page.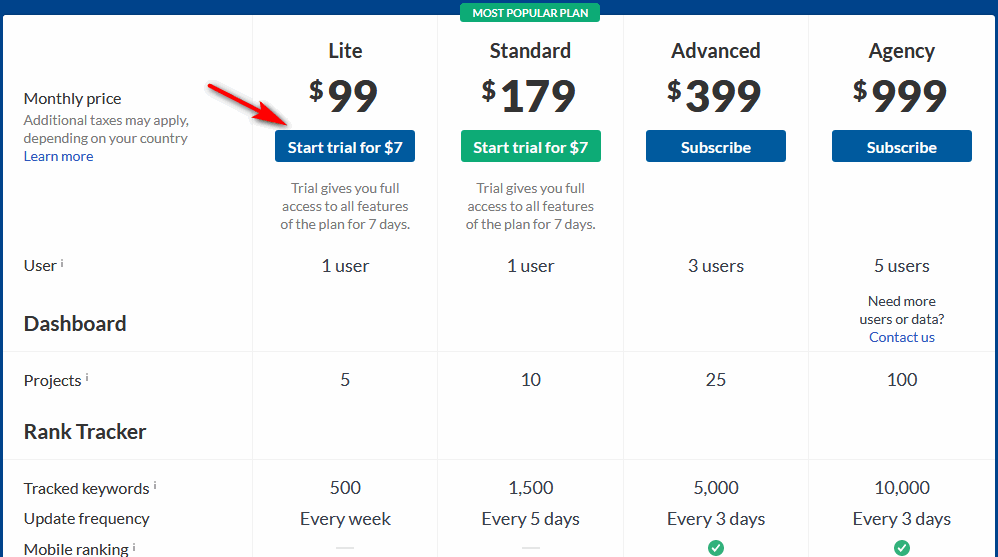 Price And Plans Of Ahrefs software
They have various plans that you can consider. They include the lite plan at $99, standard plan at $179, Advanced plan at $399 and the Agency plan at $999. Visit the link to get comprehensive data.
Conclusion
In this post, we showed you how to get the Ahrefs free trial. But, we found out that it is a paid 7 days trial that Ahrefs offers. Also, to get the 7 days paid trial, visit the trial page and click on the trial button. And enter your email and payment details and make sure you use the trial properly.
Related: How To Start SEMrush Free Trial