Technology is really helping us to do a lot of things these days. Now, you have the freedom to be in two places at the same time thanks to advanced intelligent computing. Yes, you can leave your computer on and then with Internet access connect to it directly from another device. Sure it is possible with LogMeIn software, the number 1 most trustworthy remote access tool you can find today. So, what is LogMeIn and how can you download LogMeIn free trial?
According to Wikipedia, "LogMeIn, Inc. is a provider of software as a service and cloud-based remote connectivity services for collaboration, IT management and customer engagement, founded in 2003 and based in Boston, Massachusetts. The company's products give users and administrators access to remote computers". The company is quoted in NASDAQ with its Headquarters at Boston, Massachusetts, United States and owns Subsidiaries like Grasshopper, Citrix Online, GETGO, Inc and so on. Now that you know a little more about this company it is time to move into the juicy part, and that is how to download LogMeIn free trial. So, let us explore how you can get this tool that can help you compress time, get your work done with speed and improve your business.
What do we mean by Remote Access?
The remote access software also called remote desktop software, allows you to remotely control a computer from another place using an internet connection. Furthermore, you can access your desktop and all the apps, files and information like you were sitting actually in front of it. Also, LogMeIn is ranked as the best remote access tool for small and medium-sized businesses. Furthermore, LogMeIn enables you and your team to achieve more from anywhere with a simple, intuitive user interface.
Downloading LogMeIn free trial
No credit card is required to sign up so, visit the website https://www.logmein.com/pro/features/remote-access.
Click the "start a free trial" button.
Enter your email address and password, tell LogMeIn what you will use it for. Whether for personal/business or IT support. Select any of the two by checking the round button beside your choice.
Next, click Start My Free 14-day Trial to download LogMeIn.
Go to your email and click a link on the email from Logmein to confirm the email. You can click and verify your email. You can also copy it to your browser.
Now, in your personal page at Logmein click to add a new computer. If it is the computer you are using then "Click Download Installer". But, if you wish to add a different computer that you want to access "Click generate link" (See the installation steps after the No.10 step below)
Click to Save Widows installer package a 32.8 MB file.
Run The Installer on this computer by double-clicking it (make sure your computer meets the system requirements. Either for PC or Mac)
Next, leave the computer switched on and on the internet.
Finally, you can connect from anyplace by using your LogMeIn Client, iOS or Android app or use LogMeIn.com website.
If you are adding LogMein to a different computer follow this process
From step No. 6 above, after clicking generate a link, you either copy the link by clicking copy link or click send in email. Next, use the link to install the software that will let you control the PC or Mac by a remote process using LogMeIn.
Follow these steps to install the LogMeIn free trial software.
On the PC or Mac, you want to access, click the link and follow the instructions on the screen.
After installing the software, leave the PC or Mac switched on and online.
Then connect from anywhere using the LogMeIn Client, iOS or Android app or LogMeIn.com website.
Using LogMein To Connect from a PC or Mac
On a different computer, visit LogMeIn.com and log in with your LogMeIn ID and password.
On the open Computer's page, and click the computer that you want to control.
Now, log in with your computer user name and password.
That is all you need to do. You are now in two places at the same time.
Using LogMeIn to Connect from a phone or tablet
First, Download the LogMeIn app to your Android or iOS device and connect.
Features of LogMeIn Free Trial Software
Remote Access: You have the choice of accessing your work from wherever you need to be.
Unlimited Users: It widens computer and file access to anyone you wish to collaborate instantly.
Multi-Monitor Display: Look at all your work monitors together, as if you were sitting at your desk.
Pro LogMein Features you can have by going PRO
Do File Transfer
Get Remote Printing
Have Unlimited Remote Access
Use Multi-Monitor Display
Capacity to do Remote Control
You can Screen Sharing
Get 1TB File Storage
Easily do Password Management
Have Unlimited Users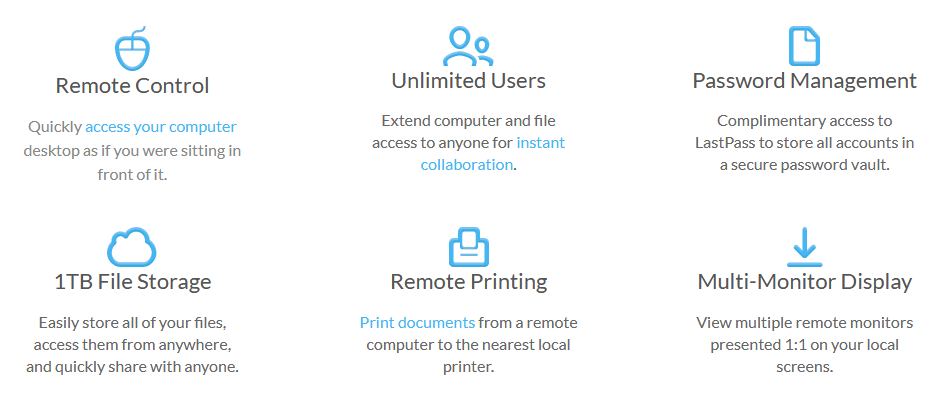 To Purchase LogMein Pro after LogMein free trial expires
They have different plans for individuals, Pro for power users, Pro for small business, and for the Enterprise pack, you need to call 1-866-478-1805 support for pricing. However, the Pro plan for Individuals cost USD$349.99  for 1-year access and you have 2 computers you can use the software. Learn more.
Conclusion
We have explored how you can get the LogMein free trial. You can see that it is easy and it does not require your credit card details. All you need to do to get it is signup with your email address and you will get the LogMein user ID and have access to download the remote access software. Try it now and share your user experience with us.
Related: