On this page, we will show you where to download the latest version of CorelDraw free trial. As you already know, there are graphic design tools of all kinds but Corel Corporation is one of the best Graphics software developers on the planet. Also, one of its advanced software that you should have if you are a graphics designer is CorelDRAW. Furthermore, CorelDRAW Graphics Suite 2019 is the latest app the developer has. Also, you can use the app on Mac or Windows 7 and 10 operating systems.
Similarly, it has a star rating of 4.5 stars as given by 535 users that reviewed it. This graphic design software matches Adobe Photoshop. CorelDraw has many benefits like the ability in the new software to have non-destructive effects for bitmap and vector objects, having more control over your objects, layers and pages, better pixel workflow for pixel-perfect documents and a new feature that enables you to work on the go with CorelDRAW.app.
Furthermore, you can have CorelDRAW for free to evaluate for clear 15 days with no questions asked and without credit card or payment information. So to help you get this freebie easily, we have prepared this post to show you ways to access the CorelDRAW free trial version.
Let s begin the tutorial right away.
What you can use in the CorelDRAW 2019 free trial app
CorelDRAW 2019 has Vector illustration and page layout you can use
Use PHOTO-PAINT 2019 to do the edit of those images you have
With Corel Font Manager 2019, you can explore fonts using this management tool
PowerTRACE enables you to do Bitmap-to-vector tracing with ease
Use the new CONNECT Content finder to do your search
CAPTURE your screen with the capture tool that is only available in Windows version
an app that is Online graphic design tool you can use by the web browser.
AfterShot is a 3 HDR RAW photo editor.
Finally, you have BenVISTA PhotoZoom Pro 4 Plug-in for enlarging digital images.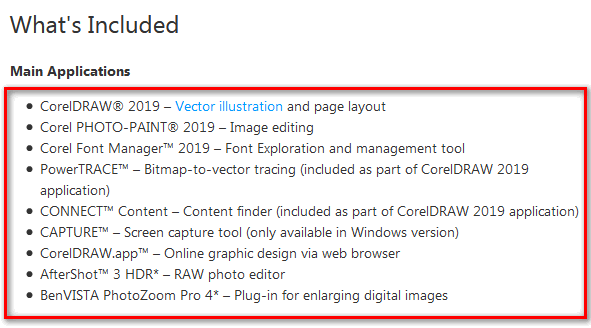 System Requirements
Before you download CorelDRAW free trial version, consider the system requirements so that the download will succeed.
Windows OS: The minimum system requirement for the Windows operating system is Windows 10, 8.1 and Windows 7. Also 32-bit or 64-bit, Service Packs Intel Core i3/5/7 or get AMD Athlon 64. 2 GB RAM, 2.5 GB hard disk space, and more.
macOS: Whereas, the minimum requirement for macOS 10.14, 10.13 or 10.12, with the latest revision Multicore Intel processor with 64-bit support, 4 logical cores or higher, 2 GB RAM (8 GB RAM or more recommended) 4 GB hard disk space for application files, and more.
Downloading CorelDraw free trial version
To begin the process, log in to the CorelDRAW Website and look for the free trial offer
You can go to https://www.coreldraw.com/en/free-trials/
Click Download free trial or click free trial from the websites tab labelled free trials
Click Download Now, and underneath you will see (a full 15-day free trial of this CorelDRAW Graphics Suite 2019 and no credit is card required.
Additional Message from Corel
You will get this message that if your download has not started, please click on one of the versions below to initiate the download. Select either Windows or Mac to start the download of the software.
4. Select your operating system, Windows or Mac. Now, (After downloading the software into your download file folder, follow the steps labelled 1-3 to run the CorelDraw free trial software.
The file is from corel.com. It is labelled CorelDRAW _Graphics_Suite_2019_seo.exe binary file of 2.1 Megabytes. To download it click Save File into your hard drive.
Step 1, click save the file, Step 2, click the installer and Step 3 click run.
Conclusion
In conclusion, use this opportunity to get this powerful software now. We have shown you CorelDraw free trial download procedures. You can use this latest version with all its excellent features for 15 days with ease. As we said earlier, you don't need to submit your payment information or give Corel Corporation your credit card.
Related: