Would you like to download 3ds Max free trial full version? With Autodesk 3ds Max, you can make 3D animations, models, games and images. The developers of this software are Autodesk Media Entertainment. This software gives you fast performance for rendering Animation and efficient workflows that enable you to increase productivity no matter how complex the job may be. Even with the free trial version of 3ds Max, you can use it to create computer graphics, game apps, film and tv animation and for doing product prototype.
Also, architects and engineers love 3ds Max due to its capability to interface with AutoCAD making it the preferred solution for premium architectural designs. Furthermore, small businesses and large enterprises work with it on Windows and Mac operating systems. In addition, the app renders high-definition details, giving reality to virtual infrastructure, characters, and scenes.

Also, the animations feature help you to simulate smoke, clouds, fire, steam, water, rock, oil, and so on. But the app does not come cheap but thankfully they have a free trial for the full version and students evaluation copy. Finally, you should note that to get the 3ds Max free trial, you should be living in the United States or Canada. So, this post will show you how to download any version of Autodesk 3ds Max free trial.
Let us begin the tutorial.
How can I download 3ds Max for free?
If you want the 3ds Max trial Version, you can have the full version and try it for 30 days. So, to start the download process go to the Autodesk's website.
Start by Clicking Download for Free.
Study the system requirements and then click Next.
Select "Individual or Business User" from the list they show to you
Type in your personal information to create an Autodesk account
Study the "Notice" about the free trial and click the button Begin Download.
After downloading the software, install it and begin to use the 3ds max free trial.
Educational Version
Autodesk gives educational licenses of 3ds Max that you can use for three years. Also, you can see this information on Autodesk's website. Furthermore, here are the steps you need to follow to download the educational version of 3ds Max free trial
Click to sign in if you have an existing Autodesk account, or click Create Account to make a new account.
Enter the information they need about your educational institution and pick your field of study.
After that, you now have access to the Autodesk Education Community.
Next, select the version you want to download, operating system, and the language of your choice.
Then, you will see the serial number and product key. They will send them to your email address. Therefore you need to click "Browser Download".
After downloading the file, install the 3ds max free trial.
Also, when you are installing the 3D modelling software for the first time, you should type in the serial number and product key to unlock it.
Finally, when you launch the 3ds Max for the first time, make sure you activate the license.
Autodesk 3ds Max free trial Features
Now that you know how to get this Autodesk 3ds max free trial download, you should also see the array of features of this intelligent software. They are:
Creates Particle Flow Special effects
It has Max Creation Graph Controllers
Has Raytracer Renderer
It can render in A360
Motion Paths
Lovely 3D Animation and Dynamics
MAX to LMV
Gives 3ds Max Fluids
Simple model data import
You can link it live with Stingray Game Engine
Easy character Animation and Rigging Tools
Crisp 3D Rendering
Enhanced ActiveShade Rendering
Has a Physical Camera
Better pipeline Tools Integration
Arnold for 3ds Max
Neat Asset Packaging
General Animation Tools
Comes with Data Channel Modifier
You can modify Hair and Fur
Comes with clean UI, Workflow, and Pipeline
Can convert Scene with ease
Has the Asset Library
You can modify workspaces
Able to do Spline Workflows
Can do Mesh and Surface Modeling
With high DPI Display Support
Has Geodesic Voxel and Heatmap Skinning
3D Modeling, Texturing, and Effects
Assign Texture and Editing
Has Blended Box Map
System Requirements
Operating system: Use Windows 7 or higher versions like 8, 8.1 and 10
CPU: 64-bit processor
RAM: 4 GB RAM minimum, 8 GB or increasing the Ram is recommended
Graphics Card: You should get comprehensive information on GPUs that are approved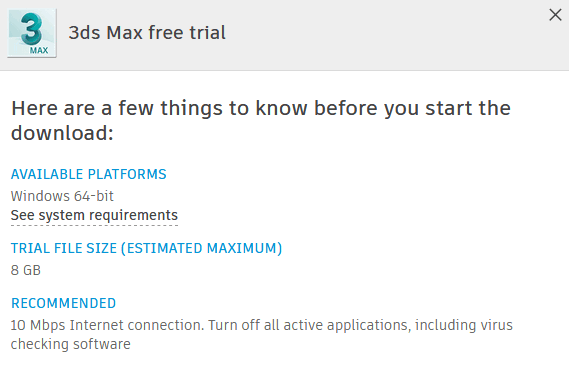 To get more information Click here.
Conclusion
In this post, we showed you how to get Autodesk 3ds max free trial download. Now you can download either the full or the educational versions. So, make a choice and get the app that will meet your need efficiently. Kindly share this post.
Related: