Do you hope to become an architect, engineer, or a manufacturer one day? Can you make 3D or 2D Designs modelling of houses you would love to construct someday? If yes, then you would need the AutoCAD software. Therefore, in this post, we will show you how to download AutoCAD free trial and use it for 30 days.
So, what is AutoCAD? Autocad is a design tool that you can get free for educational services. There are also premium packages with more advanced features for your use personally or for business. If you have the Autocad software, you can start shaping the world the way you like it. Furthermore, you can make accurate 2D drawings and 3D models, and work with designs across diverse platforms using any device. Also, you are able to leverage the flexibility with the new AutoCAD web and mobile apps. Additionally, you can use the application on Windows and Mac operating systems.
Let us begin.
AutoCAD free trial – How to try it for 30 days
Autodesk gives a free educational version that you can use on two personal devices for 3 years only. But that software is purely for students. While there is another one for a premium that you can use either for personal or business purposes. However, you can install the trial version of Autocad for the period of 30 days directly from Autodesk's website.
So, if you want to download the AutoCAD free trial version, here is the guide. To start the download process, visit their website.
Click Download free trial button.
Choose your operating system. And then, click Next.
Also, read the system requirements notice. And click Next.
Select "Individual or Business User" from the list presented in a form.
Select your language – whether English or any other language. And then click Next.
Now, type in your personal information to create an Autodesk account. On the other hand, you can sign in to your Autodesk account if you already have one.
Input your business information. And then click Next.
Furthermore, you need to read the free trial Notice and click "Begin Download".
Finally, install the software, and begin to use the AutoCAD free trial.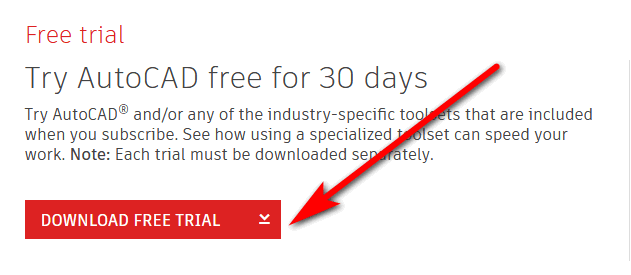 The features of AutoCAD 2020
It has Base, Projected, and Section Views and more.
Rock-solid, Surface, and Mesh Modeling.
Also comes with Photorealistic Rendering.
With Visual Styles.
Do 3D Navigation.
It has Modeling and Visualization.
Has Section Planes.
It can do 3D Scanning and Point Clouds.
System requirements
Windows os
Operating system Microsoft Windows 10 (desktop OS), Microsoft Windows 8.1 with Update KB2919355 and Microsoft Windows 7 SP1, CPU Type 1 gigahertz (GHz) or faster 32-bit (x86) or 64-bit (x64) processor, Memory For 32-bit AutoCAD 2017: 2 GB (3 GB recommended)For 64-bit AutoCAD 2017: 4 GB (8 GB recommended), and more. Get the exact requirement here before installing your Autocad free trial on Windows OS .
 macOS
Operating System  Apple macOS 10.14 Mojave (requires AutoCAD LT 2017.3 Update), High Sierra 10.13; macOS Sierra 10.12 or later,  macOS 10.11 or later (El Capitan) and macOS 10.10 or later (Yosemite)
Model Apple Mac Pro® 4,1 or later; MacBook Pro® 5,1 or later; iMac® 8.1 or later; Mac mini® 3.1 or later; MacBook Air® 2.1 or later; MacBook® 5.1 or later, CPU Type 64-bit Intel CPU (Intel Core Duo CPU, 2 GHz or faster recommended) Memory 3 GB of RAM (4 GB or above recommended), and more. Get the exact requirement here.
Stopping auto-renewal of Autocad free trial subscription
You may need to cancel the free trial subscription before the free trial ends if you don't want to continue using their service. Click here to learn more.
Conclusion
In this post, we showed you how to get AutoCAD free trial. You can use it for 30 days. Also, you need to register for an Autodesk account and enter your personal information to get the download. At the end of the free trial, you may choose to convert to the paid service. Send your experience with this product.
Related: