GetResponse is a platform for carrying out email marketing for your business. You can use this platform to create a useful marketing list of the prospects of your business, partners, and clients. This will enable you to have a close relationship with them to build a profitable customer profile. You can trust GetResponse to send your messages to prospects and other business partners with a 99.5% delivery rate. This guarantees that messages reach the destination inboxes you send them to. When you sign up for GetResponse free trial account, you can freely send and reschedule emails like other premium email services.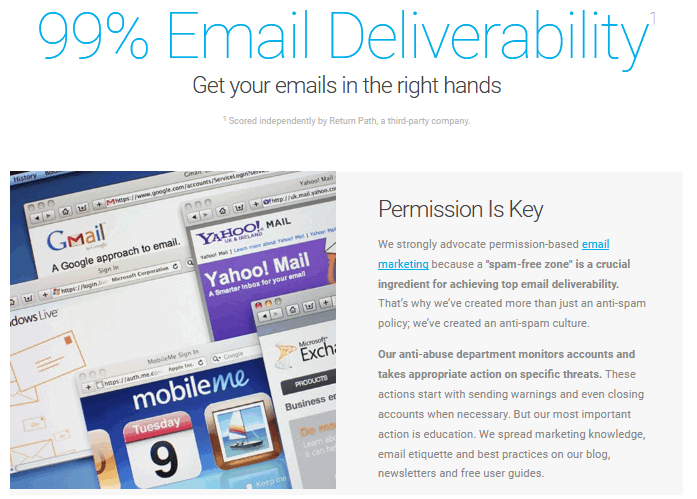 To start using this awesome email marketing tool, all you need to do is to add contacts, plan marketing campaigns and manage the sales. Additionally, you must analyze results and plan new strategies to give your business more visibility and profitability it deserves. Moreover, you can get a 30-Day GetResponse free trial account, without adding your credit card information. And, upgrade the trial account to a premium account at any time during the trial period or when the 30 days trial period ends. Furthermore, with a free account of GetResponse, you can add 1,000 contacts. We are sure you are excited by this GetResponse free offer. So without further waste of your time let us explore how you can try GetResponse for free.
GetResponse free trial – How to sign up
Visit the website and click this link or copy this link and paste it you're your browser. https://secure.getresponse.com/create_trial/en
Then supply your email address, first name, and password and click
Create an account, select a plan and start using the platform to add contacts, create a marketing campaign and so on
You may also go the GetResponse pricing page and Signup by choosing a particular plan, and then click it to start your free trial for that plan. Also, you will enter your name, email, and password too. However, note that if you select the Enterprise plan, you will need to book a Demo by entering your name, email address, contact phone, country and the size of your business and tell GetResponse how they can help you.
GetResponse Pricing Plans
For all the plans, you can pay with VISA, AMEX or MasterCard. They have four plans with different features. They are listed as follows:
Basic plus plan: The price of this package is USD $15/mo and you can try it free for 30 days, the features include Email marketing, Auto-responders, Unlimited landing pages, Automation templates, Forms and surveys, Exit pop-ups, Facebook Ads, 150+ integrations.
Plus plan: The price of this package is USD $49/mo and includes everything in the basic package plus additional features.
Professional plan: The professional package is $99/mo. Of course, it has everything in Plus plan and more features too.
Enterprise plan's price is USD $1,199/mo and it has everything in pro and more features tailored to suit your needs.
You should note that Getreponse charges you for only active subscribers to your email list, unlike other service providers. Additionally, they do not charge you for people who unsubscribe, email addresses that are deleted or bounced emails.
Does GetResponse free trial have limitations?
Yes, there are some limitations when you have a GetResponse free trial account concerning webinars and messages.
Webinars: You can only have 10 people in Webinars. You and the presenters inclusive
Messages: All your messages will have the GetResponse symbol and default GetResponse pages may carry 3rd party ads.
When you upgrade to paid accounts like Plus or Professional package all those options will be unlocked. You will now have webinars and landing page add-ons integrated into the account.
Note that in Basic plans, webinar and landing page are available but you have to pay for them as add-ons.
Also, it is when you upgrade from the free trial to a paid platform that your credit card will be charged. You can learn more about payment methods by clicking the link.
Upgrading your GetResponse free trial account
You are free to upgrade your GetResponse account at any time you like during your free trial. Do so easily by:
Going into your account profile menu and clicking "Upgrade account".
Next, select the plan from Basic, Plus or Professional and pick the package (list size).
Type in your account details and payment information.
Choose your subscription plan whether monthly or prepayment for 1 year with an 18% discount or 2 years with a 30% discount.
Finally, you just click the Upgrade Account key or button.
Conclusion
In this post, we showed you how to start GetResponse free trial. It is for 30 days and you don't need to enter your payment particulars to start using GetResponse trial account. Just open an account, supply your email address pick an option and start adding contacts. Finally, you can use the free period to test the service. What are you waiting for, you get the freebie now and optimize your marketing plan immediately.
Related: