Start your adventure and explore the huge world of Eorzea without any limits. You can become a warrior of light and live your fantasy to save the realm from sure destruction. Also, you can fight your way up to level 35 and so on. You may be wondering what Final Fantasy xiv free trial is all about?
Final Fantasy XIV is a multiplayer online role-playing game designed to run only on the Microsoft Windows Operating System. Furthermore, a Realm Reborn is being used to replace the Final Fantasy XIV which debuted in 2010 but had to be taken off air due to poor reception when it was launched.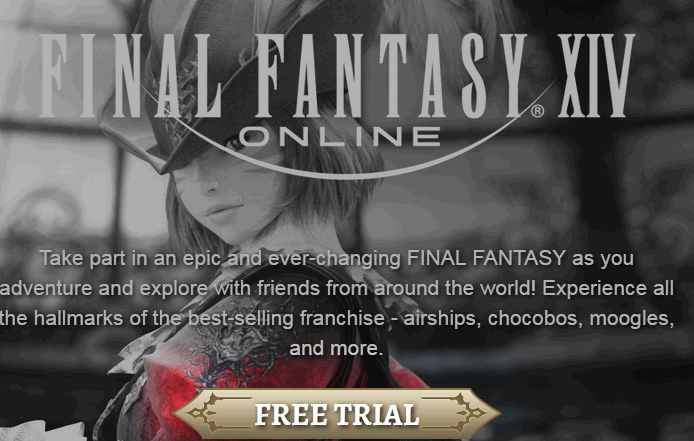 It was developed by Square Enix in September 2010. However, the game was produced by Hiromichi Tanaka and Naoki Yoshida. Additionally, this is the fourteenth entry in the major Final Fantasy series and the second MMORPG in the sequence after the Final Fantasy XI. Usually, you can get this game by subscription, however, there is an FFxiv free trial that you can download on your PC provided you are a new gamer getting it for the first time. So, in this post, we will show you how to play the Final Fantasy xiv free trial.
FFxiv free trial – How to play it for free
To begin the process for getting this game, visit the website by clicking this link or copy and paste it into your browser https://freetrial.finalfantasyxiv.com/na/
Click the Free Trial key or button on the website.
Create a new Square Enix Account by selecting where your location from a drop-down menu.
Next, select your language and enter your email address
Pick a Square Enix ID and choose a password
Enter your date of birth. Also, select a Security question and enter the answer.
Select whether Windows or Play-station 4 platform and then accept the terms of use or privacy policy, and consent to the cookies policy.
Check the reCAPTCHA
Click the submit button.
After your account is setup with the free trial game client, you can download game software by following this link.
Minimum System Requirements for the ffxiv free trial on PC
OS: Windows Vista 32/64 bit, Windows 7 32/64bit, Windows  8 32/64 bit, CPU: Intel Core™2 Duo 3 GHz; Memory: 2 GB (4 GB recommended for64-bit OS), Hard Disk/SSD: 20 GB available space. To learn more click this link.
To play the game on PC
You must download and install the free trial software.
Also, you have to create a FINAL FANTASY XIV free trial account when you start the software.
 To play the game on PC or Mac Version PS4™Version
Use your PlayStation®4 console, to open the PlayStation Store
Search for the game page for the FINAL FANTASY XIV Online free trial
Click the "Try Free Demo" button on the left of the game page to get the download.
Additionally, you can also use the computer to put the download on queue from the PlayStation™Network website.
Requirements you need to meet  to join in the free trial
You must have a SQUARE ENIX Account.
You can also create a SQUARE ENIX Account during the client setup process of the software or on the SQUARE ENIX Account Management page on the game website.
Furthermore, you can use a former SQUARE ENIX Account, provided the account has no license for the retail version or the beta of FINAL FANTASY XIV: A Realm Reborn.
In addition, SQUARE ENIX Account must not have past FINAL FANTASY XIV: A Realm Reborn license. Other requirements are:
You must not have taken part in the free trial before.
Also, you must not have taken part in the FINAL FANTASY XIV: A Realm Reborn Beta Test.
You must not have a complete version of the license of FINAL FANTASY XIV: A Realm Reborn.
How you can install the free trial if you have an existing version of the FINAL FANTASY XIV
Make sure you uninstall FINAL FANTASY XIV including the free trial.
Now start from C:\User\(PCName)\Documents\My Games
And then Delete this folder or directory titled: "FINAL FANTASY XIV – A Realm Reborn" or any folder/directory that has FINAL FANTASY XIV.
Here are some limitations for the FINAL FANTASY XIV: A Realm Reborn Free Trial
The following account limits apply for the period of the Free Trial:
If you use the free trial you cannot use paid optional services like hiring additional retainers and so on
If you use the free trial you will not be able to log in to the Lodestone and the official forums.
You can learn of other restrictions that apply during the free trial in the game itself by visiting this link. Note, that all the limitations will be removed after you upgrade to the full paid version.
Conclusion
In this post, we showed you how to get ffxiv free trial. Although this is a subscription-based game, you can get the free trial of the game on your PC provided you are a new gamer. But, you need to open new Square Enix Account and supply your date of birth. Additionally, there are other requirements and limitations you need to meet and adhere to which we explored. Enjoy your game and become an ultimate warrior of light.
Related: