Do you desire to be creative and make impressive videos? Then you will need to download PowerDirector free trial version to test-run. Everyone can use it whether you are a pro or a beginner. As long as you have the power of imagination. Furthermore, you have an advanced 360 degrees video editing software that is immersive at your disposal. You can do a lot with this app. For instance, you can import, edit, control steadily and export your 360 degrees video. In addition, you have a precise video editing tool that you can control with ease.
The fact is that you can use this software to create spectacular videos that will engage your users. And it comes with dynamic video collages and the capability to drag and drop your work any time you need to. Additionally, this app is integrated with a video tutorial that you can use to cut off the learning curve and be at your creative best. So, in this post, we are exploring the CyberLink PowerDirector.  And to show you, how to get CyberLink PowerDirector free trial for (All versions).
Cyberlink PowerDirector Free Trial Download (All Versions)
To start the download process, visit the cyberlinks.com or go to download and click-free trials or just click this link. Make sure you study the download system requirements and other facts we will share in this post before you start the download.
Click the Download now button
Save the file in your download folder named CyberLink power director downloader.exe. It is 1.1 MB in size.
Follow the instructions on the screen to install it on your computer.
Double Click the setup file and install it. You do not need a CD key. Just give the software the permission it needs to run on your system.
After installation, start using the software
Limitations Of The PowerDirector Free Trial Version
The software needs a 64-bit operating system to function properly. Although, you can still use the product with a 32-bit operating system but, with limitations. For a comprehensive list of limitations click here to read the download information. Furthermore, here are the premium features that you will enjoy when you download Power director free trial version. Unfortunately, you will only be able to use them for 30 days during the free trial period. Thereafter, you will need to buy the PowerDirector to continue using these features.
Premium Features Inside PowerDirector Free Trial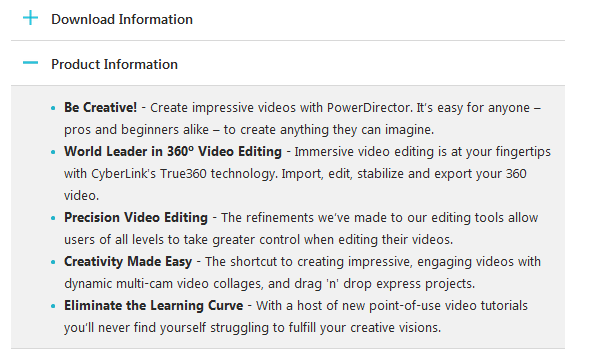 Full HD resolution output
It Outputs to AVI, MPEG2, WMV, XAVCS, image sequence, audio, 3D and other device formats.
3D and 360 viewer modes
Video Collage Designer
MultiCam Designer
Theme Designer
Create Disc
Capture
Fix/Enhance
Mask Designer
View Designer
Action Camera Center
Content-Aware Editing
Video in Reverse
Blending Effect
Motion Tracker
Magic Cut
Sync by audio
Audio Ducking
Audio Editor
Minimum System Requirements
Operating System needed to install the free PowerDirector trial is a Microsoft Windows 10, 8, 8.1, and 7 Service Pack 1, 64 bit OS, Processor (CPU) and Intel Core -series or AMD Phenom II and higher Graphics Processor (GPU), Standard Video format: is 128 MB VGA VRAM or higher, 360-video: DirectX 11 compatible, AI Plugin: 2GB VGA VRAM or higher. And Memory: 2GB needed 6GB or more, plus a Hard Disk Space 10GB. For other details click this link
Format And Device Support
Video File (Import) it supports include H.265/HEVC, MOD, MVC (MTS), MOV (H.264/HEVC/alpha PNG) and Side-by-Side Video MPEG-1, Top-under Video, MPEG-2 Dolby Digital audio, DVR-MS and WebM (VP9) NEW and more.
Audio Format (Import) include AAC, Dolby Digital, Dolby Digital Plus, DTS, WAVE, MPEG-1 Layer III, FLAC, ALAC Photo File (Import), MPO, JPS, RAW, GIF, BMP, JPG, TIF, PNG, Animated GIF, and more.
Other Download Info
The application supports many languages including English, Chinese, German, French, Italian, and Dutch. Product release date is 2019-07-05 and it is free software with a file size of 390.79 MB. The Developer is Cyberlink corp.
Where to get the free download
You can get the CyberLink PowerDirector free trial Download from the developer's website. Visit it now and get the freeware. Follow this link to visit the website now and download software.
Conclusion
In this post, we showed you how to get the Cyberlink PowerDirector free trial Download. The software is freeware and you can do a lot with its 360 degrees video editing functions. Try it now and send us feedback on the experience you have using this product for 30 days.
Related: