In this post, we will show you how to get Adobe Acrobat free trial. What is Adobe Acrobat? Adobe Acrobat is a total solution for creating, converting, signing and managing portable document format (PDF) on your computer. This application works on your Windows, Mac operating system and your Android or iOS devices.
With this application, you can convert any document from ordinary text into lovely fonts and edit it in different devices. For instance, you can easily convert any document you type with Microsoft Word, Excel and PowerPoint into PDF formats with the click of your mouse.
It is so powerful that you have the capacity to get any information from scanned printouts and compare the scanned with the original. In addition, it has a simple user interface, and you can also post comments and feedback to Adobe easily.
Adobe Acrobat Free Trial.
Features
Before we show you how to get Adobe Acrobat free trial, allow us to show you some awesome features of this application. Here are some of its excellent features that you would love.
You can convert Word Excel or PowerPoint to Portable Document Format (PDF)
Editing information in scanned tables is easy.
You have the capacity to convert HTML pages into a portable document format
Post review and comments
You can print directly into a portable document format
Fill and sign your document
You can convert portable document format (PDF) into Microsoft Office document
Ability to password your document and grant permissions for its use
Move from your camera to PDF, and more.
How to try Adobe Acrobat for free

Now that you know some of the awesome features of this app. Let us show you how to download the application and evaluate it for free.
From the Adobe website, select the place you wish to log in from to make the download. For example, assuming you are login in from Africa, you can click this link.
First, search for the Creative Cloud apps catalogue or click this link to locate the app that you want to download.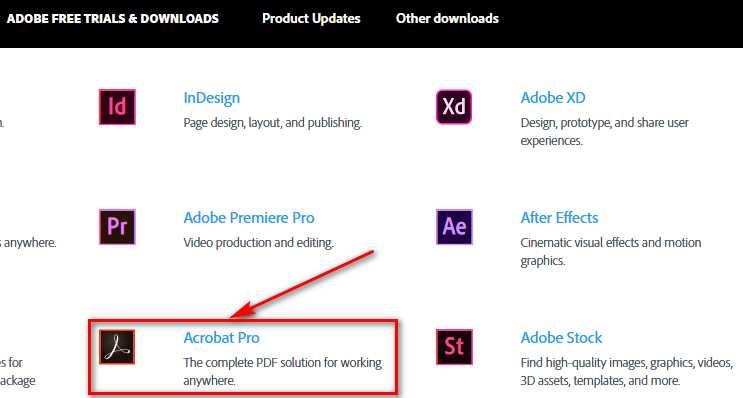 Secondly, choose the following things depending on what is displayed on the screen. It can be:
Start your free trial and choose a plan
In addition, you are to answer a few questions about the free trial usage
In this case, look for Adobe Acrobat and then click start free trial. Furthermore, if the app prompts you to start a free trial and chose a plan, you can select the plan you want and put your email address and click continue, next enter your payment information which could be either a debit or credit card and then click "Start Free Trial".
Another thing you should note is that if you are a new member to Adobe website and wish to get a free download of any of their software, you will get a prompt to enter a password for that new account, and then you can click continue.
Downloading Acrobat Pro free trial application is Instant
Your Adobe Acrobat app will begin to download immediately you click continue.
Also, you will notice that a creative cloud Desktop app will display to manage the installation process of the Adobe Acrobat free trial you have selected. Furthermore, you can check the download process in the status bar beside the applications name.
Finally, when the app finishes downloading it will launch automatically. The app is just like any other app on your computer. In addition, it will install in the programs file folder other applications in your computer usually go-to for both the Windows or Mac operating systems.
You have the right to cancel without paying any fee during this free trial which will last for seven days. However, once the free trial ends, your subscription will start and your account will be charged with $14.99 per month. You also have the option to choose the annual prepaid subscription of $179.88.
So, make sure you cancel before the free offer ends if you do not want the subscription to start. To cancel the subscription, you can visit this link (https://helpx.adobe.com/africa/manage-account/using/cancel-creative-cloud-subscription.html).
Conclusion
In this post, we showed you how to download the Adobe Acrobat free trial. You now know that you can only use the free trial for seven days. Also, you have to fill in your payment details in the app for you to use it. However, you have the choice to cancel any time before the free trial expires.
You can download the app and send us feedback on this website.
More to download: