If you are reading this, you are definitely looking for ways to get Adobe Photoshop free. Photoshop is a software that is for editing digital images and also used by photographers to edit photos. It is also one of the leaders in photo manipulation. Graphic designers and web designers also use it to create and edit images for web pages. Furthermore, fliers and t-shirts can be designed with photoshop. There are so many opportunities when using Photoshop.
In recent years, Photoshop has remained the world's best-known photo editing software from time to time. Photoshop is here to stay and is going nowhere for now. The main purpose of using Photoshop free is for you to get the chance to become familiar with the software for 7-days. That's the maximum number of days Adobe trial is available for. However, after a week Adobe will offer you an opportunity to subscribe to the paid version.
Basic requirements for Adobe Photoshop
Windows
6GHz or faster processor
Microsoft Windows 10
4 to 8 GB of RAM
Hard disk space of 5.2 GB and an additional 2.4 GB.
1280 x 800 resolution
DVD-ROM (If installing from a DVD)
Internet connection is required to download software content.
macOS
64-bit Intel processor
macOS v10.13 to MacOS v1.15
4 to 8 GB RAM
Hard disk space of 6.5 GB and an additional 2.5 GB.
1280 x 800 resolution
DVD-ROM (If installing from a DVD)
Internet connection is required.
For more on the requirements of Adobe Photoshop, you can check here.
Benefits of Photoshop free
It is a user-friendly software that helps you show your creativity.
Objects that are imported into the workspace are easily organized.
Files are easy to transfer in Photoshop and it also delivers high-quality results with its unique features.
It is very fast and also easy to use. A professional will spend little time editing an image.
There are thousands of opportunities when using Photoshop if you know what tool to use and when to use them.
Features of paid/free version of Adobe Photoshop
If Photoshop was not great, we would not be talking about getting a free version of it. Photoshop has managed to capture the heart of many designers. How did it manage to do that? Let's take a look at some of its wonderful and unique features:
Layers: There is no better feeling than having total control over your work. The layer palette gives the designer absolute control over objects in the workspace. You can draw and design various sections of your work and stack them orderly. So that when you make mistakes, you do not need to start over.
Selection tools: If there is one thing every professional loves about Photoshop, it's how easy it is to use the tools it provides. Some of the tools in Photoshop are Marquee, Lasso, Magic wand, Color range, and so on.
Curvature Pen tool: The pen tool allow its users to draw and edit any shape just like bare hands. The creativity it provides has no limit.
Variable fonts: This allows a font to be customized to different variations such as bold, italic, etc. With Photoshop, you can edit the width, weight and even slant of a text.
Copy-paste layers: You can duplicate layers while using Photoshop and also change the orders they are stacked. The stacking determines the position of the objects in different layers.
Better Brush Organization: You can create your own brush library while using Photoshop. It provides presets for its users to download and stack their brushes. Brushes are for drawing lines and shapes.
Retouching Tools: Examples of retouching tools on Photoshop are stamp tool, redeye tool, spot healing tool, healing tool, patch tool, and so on. These tools are used for correcting images.
How to get Adobe Photoshop free
Adobe Photoshop offers a free trial period to new subscribers. This trial period lasts for 7-days before you are expected to pay for it. Follow the tips below to get the free trial of Photoshop: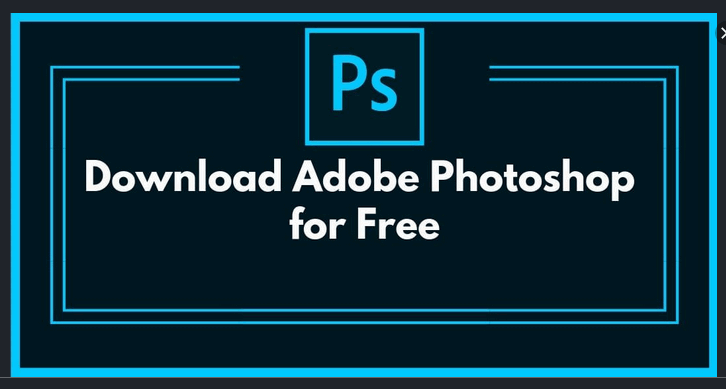 Go to Adobe's website. Hover your mouse on "start your free trial" and click it when you are ready.
Three trials will appear on the screen. Choose the one you need.
A screen will appear for you to input your email address. If you are a new user, you will have to create an account.
Choose your subscription and also input your debit/credit card details to make payment.
Your download should automatically begin. It can work with Windows and Mac OS too as long as you have a large amount of storage space on your computer (Check the requirements above for more info).
Locate the Photoshop dmg file on your system and open it. Proceed to download the Photoshop software and also the Creative Cloud app onto your computer. You have to sign in with your registered Adobe account for your installation to begin.
Once the software and all its contents have been downloaded, you can use it for free for 7-days. Your trial starts counting from the day you installed it into your system. Also, if you have no intention of paying, you can cancel your subscription. Removing the Photoshop app from your system and trying to reinstall it won't provide another free trial.
Photoshop Pricing and Reviews
You can purchase Photoshop for individuals or for businesses. It has more than one payment plan depending on the one you choose but the common plans are;
$31.49 for the monthly plan
$20.99 for the annual plan
$359.88 for the yearly plan
For more about the pricing, you can check here.
Conclusion
Lastly, most of Photoshop features are hardly available with other photo editors and if you follow the steps I listed above, getting Photoshop free will be an easy feat for you. As excited as you must be to start using Photoshop free, do not however forget to cancel your subscription if you do not want to proceed with the paid plan.
RELATED:
Photoshop Free Trial Download (Windows/Mac) Latest Version