This days information is everywhere and we all like to learn more to build capacity to increase effectiveness at work or business. So, your personal development and earning depend on what you know. To get promotion fast learn more. Furthermore, thanks to technology, you can listen to audiotape while you move about. Presently, there are digital Audiobooks that will help you to grow in any field. That is why in this post, we will show you how you can get Audible free trial. This company belongs to Amazon. As you already know Amazon has different titles that will help you to develop your expertise in any area.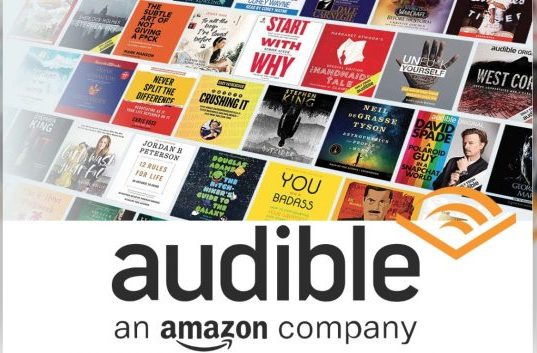 With Audible, you can buy a digital audiobook and listen to it on a compatible Fire tablet, Kindle device, Kindle reading app, or Audible app.  Also, you can buy Audible Audiobooks on Amazon with your default 1-Click payment method or existing Audible credits or coupons, or from Audible. Let us explore how you can get free Audible Audiobook now.
Audible Free Trial: How To Get Free Audiobook
Features of the Audible free account
You have free membership for 30 days with 1 audiobook + 2 Audible Originals. However, when the free trial expires and you start a subscription, you will get  3 titles each month that is 1 audiobook + 2 Audible Originals. You will also get exclusive audio-guided wellness programs at your disposal.
How audible free trial Works
Visit their website at https://www.audible.com and look for the free trial or click here to start your free 30-day trial.
Because Audible belongs to  Amazon, you have to sign in with your Amazon account and password. If you don't have an account, just create one to be able to get the Audible free trial.
After signing in you will be directed to Audible membership page, where you have to input all your personal details like your name your password to create the free account.
The next thing is that Audible will send you an email to verify the email is your own and confirm your identity. You will also have to put a onetime password to proceed (OTP).
So, go and open your email copy the OTP and paste it to verify your Audible email account for Amazon.
After that, you will proceed to the payment page. Here, you will enter your Card, put your country, name, address, zip code phone number, city, country.
After you have imputed all these details, the next thing you do is to accept the terms and conditions by clicking the Start Free Trial button.
Once you click this button your Audible free trial will start immediately.
How to use your free trial to get Audiobook on Desktop Computer

On your Audible Dashboard or page, you will have all sorts of books and titles you can choose from. You will also see credit 1.
To get an Audiobook just open a shopping cart Icon, Deselect the 1 credit button next to the Audiobook you want to charge to your Credit card.
Click the 1 credit button next to the Audiobook you want
The new subtotal will show what will be charged to your credit card and how many credits will be used.
Click to proceed to checkout and complete the purchase transaction to finalize your order.
How to use your free trial to get Audiobook on On mobile site
Search for the Audiobook by tapping on the magnifying glass
Tap on the Audiobook you want to buy
Tap Buy with a credit or buy for USD $ x.x
On the mobile site, you can only buy one title at a time
You can also use the Audible app to get Audiobook
To use this app,
Open the Audible app
Tap on shopping cart Icon or shop to open the store.
Search for the audiobook you want using the magnifying glass
Tap on the title and scroll to the bottom to choose your payment method
You can tap Buy For 1 credit
Tap Buy For USD $(price) with the default card.
Your audiobook will be sent to the Library section of the Audible app and you will get an email to confirm your purchase.
To listen to your Audio Book
Follow any of those 3 options to buy a book. Next, start enjoying your audiobook by selecting where you want to listen to the audiobook. You can select Phone, Amazon or Mac and PC.
However, they will send the link of the audio file to your phone so that you can also listen to it as you move about.  So, give them your real phone number when they ask for it on a page.
Also, after buying the audiobook you will see that you now have no more credit available in your Dashboard.
What happens after the free trial expires
You have to pay $14.95 per month after the 30-day free trial expires. However, you can cancel your subscription at any time.
Related: How to Get Apple Music 3 Months Free Trial
Conclusion
In this post, we showed you the steps to take to get the Audible free trial. Also, you learned that you must register on Amazon or use your Amazon identity if you have one. You also found out that to get an Audiobook you have to put your credit card or payment details. So make sure you remember to cancel the free subscription to avoid being charged by Amazon after the 30 days free trial expires.