If you own online business, a blog or website reaching your potential customers should not be a hit or miss affair. Webmasters use various ways to get more engagement from potential customers. Some of which involves using SEO, and email marketing strategies. In addition, Email marketing will help your online business to get more paying customers and capture more emails. You can start email marketing, by using a platform that will let you test drive their features free. So, in this post, we will explore the Constant contact free trial.  What is constant contact?
Constant Contact started doing business in 1995 and set out to create an email marketing tool for small businesses. They found out that these businesses could improve their marketing strategies to compete favourably with big businesses using email marketing. Constant contact business has continued to grow and as of 2005, it had over 50,000 customers using their email marketing services to tap the unending potentials available on the internet. In addition, Constant contact is totally committed to helping all small businesses and nonprofits who come to them to succeed. Some of their products include email newsletters, surveys, events, Facebook promotions, online listings, and so on. So, to get these tools for your business, let us see how you can start using the constant contact free trial.
Constant Contact free trial features
Constant contact assures that during the 60 days of free email marketing campaigns, you will get better results using their templates to customize your emails, plus use unlimited emails and do easy editing. Also, you can use their sign-up tools and get real-time reporting of your campaigns and so on.
Furthermore, Constant contact's unlimited emails price starts at $20 dollars for up to 500 contacts.  Also, you can easily edit your email campaign templates, resize your images with the drag and drop user interface and modify your work or template with a few clicks. In addition, you can use the  Action blocks feature, to start specific action from your emails with ease  Also, this action blocks will help you to get more click-throughs to from your customers. While their the Signup tools are simple to use and easy for you to add contacts to your business. Moreover, you can do it from your website, facebook, mobile and so on. Another feature, include using their email template that is created to work with Mobil phones and social tools to get fast response from your mail list. Finally, you can also get a real-time reporting from its tools that track who received, read, or shared your message. And what device they used and the channel. All those statistics will help you to improve future email campaigns.
Guideline for the trial
During the trial period, you can explore different types of campaigns so that you know what they offer. Use action blocks to engage your customers fully and create many campaigns to test different features available. Also during the trial what you create will remain available when you buy a subscription. But you cannot cancel or stop the free trial. You must let the trial run till it ends in 60 days. After your free trial ends you can access your contacts and campaigns but you will not be able to publish your work anymore until you buy a subscription.
Steps to get the Constant Contact free trial
Please note that your credit card is required.
Go to the website at https://www.constantcontact.com/global/free-email-marketing-trial
And then, you can click on start your free trial.

Select a plan out of the two plans available. Email plan at $20 and Email plus plan at $45 per month. Also, each has the first month free. For example, let us select the Email plus plan
So, click on Sign Up Now.
On the new page that opens, do the following: choose your contacts, choose a payment method, create your account and enter your password, select whether to pay monthly, every 6 months or annually, then click on the Next button.
Then, go to your email. Open it and verify it by clicking on the link inside the email from the Constant contact.
Next, enter your billing information. You can pay with Visa, American Express, Paypal and so on.
Finally, click on Pay Now and Get Started.
Once your payment details are verified and accepted, then you will get access to their platform and start creating your email campaigns to begin the constant contact free trial.
Features of software
You can send unlimited emails
Do Easy editing of your work
Use the action blocks to improve click-through rates
Easy Signup tools
Also, has Mobile and social capabilities
Get access to real-time reporting
Get more sales in less time automatically.
Use instant welcome email to greet new subscribers.
You are able to start an email correspondence with new leads depending on where they click
Furthermore, put contacts in segments to send the right message to them
Able to automatically resend emails to leads that fail to opener your initial emails to them
Use the advanced email list building software to reach more potential customers.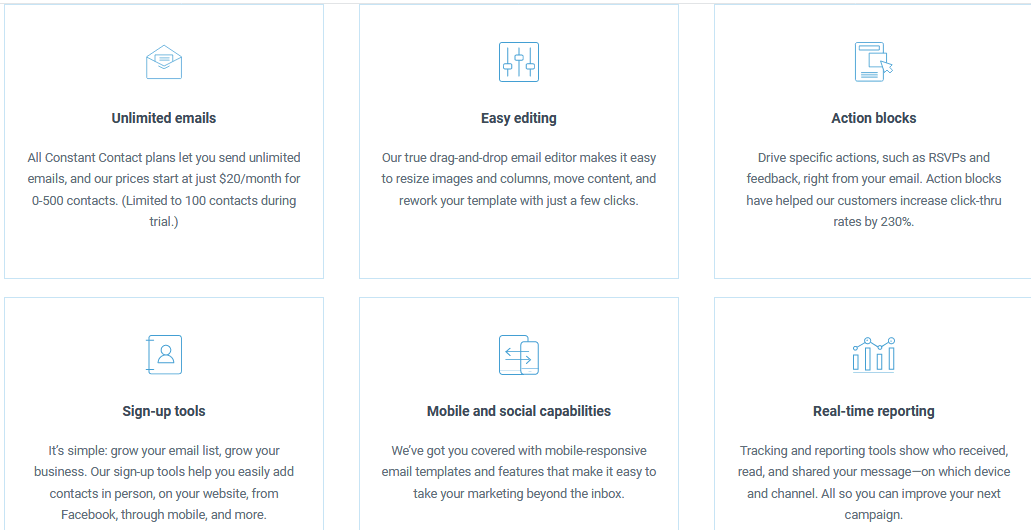 Conclusion
In this article, we showed you how to start constant contact free trial. Also, you get it by signing up for the trial from their website. But you must enter your personal information and credit card details to get the trial. In addition, you cannot cancel during the free trial. You must stay for 60 days.
Related: