In this article, we will share how to get Google Cloud Platform free trial. And, the free trial allows you to spend a $300 Credit to try any Google Cloud products. But, you will need to sign up to gain access to Google Cloud Platform Products for 1 year. During that period, you will be able to explore and discover the power of the products. And test-drive virtual machines, auto-scale web applications, and databases. Besides, you will test object storage, network and DNS services, and big data ETL. Other products include real-time queries, translation, machine learning, and so on. Although when you are signing up for the free trial, you will have to enter your credit card information, you will not be charged. Google will only use this data to confirm who you are and that you are not a robot. Also, Google will not bill your credit card when you are using the free trial or after your free trial ends except, you upgrade your account to a paid version.
So, go ahead and create with the Power, Speed, Security, Reliability, and Scalability of Google. Also, you can start creating your app with the exact technology Google, YouTube, and several of the world's biggest brands use. Without any more delay, allow us to show you how to start the Google Cloud Platform free trial right away.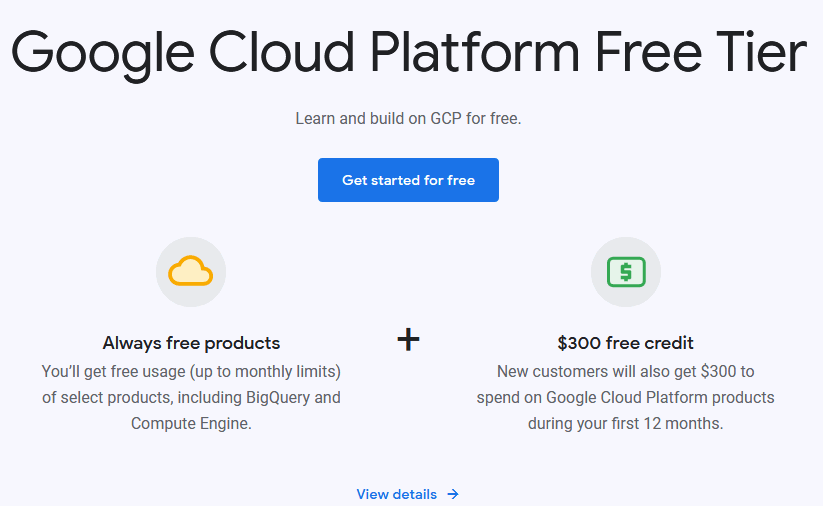 System requirements
You must use a compatible internet browser during the free trial. They include browsers like the newest version of Google Chrome, Firefox, or Microsoft Edge, also you may use Microsoft Internet Explorer 11+, and Safari 8+, additionally you will need Internet access.
Limitations of the trial
Limitations include an upgrade to a paid account if you want to continue using Google Cloud Platform. Also, all the work and all you created during the free trial are stopped. And information stored in the Compute Engine is gone. Finally, your account will have a 30-day grace period, at which time you may recover the resources and information you used during the trial period. Learn more.
Google Cloud Platform free trial – Steps to register
To register for the GCP free trial, follow these simple steps:
Go to the free trial registration page at https://console.cloud.Google.com/freetrial
And, if you do not have a Gmail account, create one by following the steps on the form. If you do, log in and go on to the next step.
Fill the registration form and complete it.
And then, study and agree to the terms of service.
Also, click to Accept and then start a free trial.
And with these steps, you can now start Google Cloud Platform free trial
Google Cloud Platform Products
During the Google Cloud Platform free trial, you will gain access to Google Cloud Platform Products to test drive all of them in 12 months. They include the following:
learning about virtual machines
using auto-scaling web applications and databases
you will test object storage
use network and DNS services
and enjoy big data ETL
also, learn about real-time queries
and work with translation
gain machine learning knowledge and more.
Conclusion
In this post, we gave you a guide on how to start the Google Cloud Platform free trial. Besides, you can get the trial by signing up with your Google account. Also, you can use the trial of 1 year to test many Google products free. Finally, at the end of the trial, your credit card or means of payment will not be charged unless you choose to upgrade your account. Start immediately and maximize the trial period. Enjoy your trial but, above all learn and upscale your business or service to global dimensions.
Related: