This post will share information about how to start the Wix free trial plan. What is Wix? Wix.com is a top cloud-based website building platform with many users worldwide. The platform help users create spectacular websites online. You can use their website builder to make a quality website and add all the personal touch you want. Wix enables you to create a striking website, and their service includes free web hosting.
Also, you can get even more benefits and features when you upgrade to one of their Premium Plans. Besides, Wix Premium Plans have Website Plans and Business & eCommerce Plans. The Website Plans contains all the features you need to get your Wix website up and running. While Business and eCommerce Plans, have extra features that allow you to accept payments through your website, and to see full Analytics, gain Ad vouchers and other advanced Wix Business applications.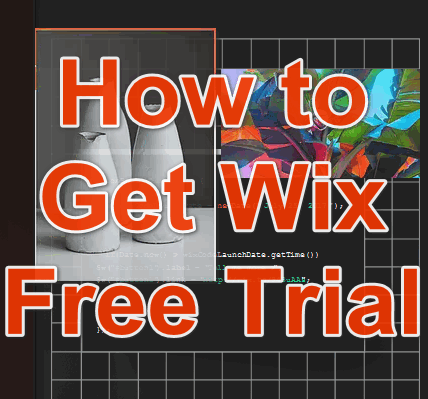 For instance, if you have a premium plan you can connect a custom domain, remove Wix ads and make use of over 500MB storage. Also, your plan comes with over 1 GB bandwidth, super-fast customer Support and Google analytics plus, online payment for business plans. Not all these features are available in the free plan.
You can also get a Wix premium free trial plan and cancel to get a refund using the moneyback guarantee. But if you cancel the trial, your plan is terminated instantly and you lose the Premium features. So, let us go on and explore how you can get the Wix free trial account without paying a dime.
Terms of Wix 14 Days Trial offer
The trial period is for purchases of only the premium plan and does not include domain names, mailboxes, Wix Email Marketing Premium Plans or App Market purchases. Also, you can try any Wix Premium Plan for 14 days and if you don't like it, you can cancel within 14 days. You will receive a full refund based on the money-back guarantee. But you have to wait until 20 business days for your refund to show up on your credit card statement.
Steps to get Wix free trial
Visit the Wix Website subscription page.

And select a plan from VIP at $24.50/mo, Unlimited at $12.50/mo, Combo at $8.50/mo and connect Domain plans at $4.50/mo.
The most popular plan recommended for you is the Unlimited plan at $12.50/mo.
Next, click on the Get started Icon.
And then log in or Sign up. You can sign up using your email address. And also use Google or Facebook accounts to log in. So enter your email address.

Then follow the steps on the onscreen steps to get the trial
But, you must enter your credit card details before you can get the trial
And note that you will see the final price on the purchase page before you complete the payment.
Also, accepted payment cards include, MasterCard, Visa, Discover and American Express and so on.
And once your payment card is confirmed by the payment processors you will be informed and you can start the trial instantly.
But you can cancel the trial if you don't want to pay the full month's fee before the trial expires.
That is how to get Wix free trial.
Features of Wix Premium Account

You can select from over 500 designer-made templates for every business.
And make use of stunning Templates
Your website will automatically look spectacular on any device.
The website is optimized for Mobile.
You have over 100 fonts and can upload your own too.
The fonts are limitless.
Do the personalized design of your site using innovative drag and drop.
Having total freedom to create your design is enough reason to get Wix free trial.
Also, you can manage your website and improve your business with powerful web apps.
You have the App Market if you need more apps
Besides you can add dimension to your site with parallax, reveal, zoom-in or fade-in scrolling.
Scroll Effects.
Use your personalized SEO plan to get your website found on Google.
Wix has industry-Leading SEO
Create an exciting look and feel with animation, video backgrounds, and scroll effects.
The platform has advanced Design Features
And you can display your images, videos, and text in a beautiful gallery layout
And more.
Conclusion
In this post, I explained how to start the Wix free trial premium account. You can get the trial by going to the Wix website to sign up by creating an account with your personal information. Also, you have to enter your credit details to try any of the Premium plans of Wiz .com. But you can cancel within the trial and get your money back in 20 days. Now that you know this, you can start building stunning websites today with Wix.
Related: