With DevExpress free trial version, you can try the tool for 30 days before you purchase. Stick around while we show you the features and the steps you need to download DevExpress free version.
As new Technology disrupts the market and people who were not ready are usually caught unawares, so is Devexpress disrupting the Visual Component Library user interface Market. Devexpress started small with developers trying to streamline their own Delphi-based projects. However, DevExpress quickly became a key player in the Visual Component Library User Interface Control market. Also, it developed apps for signature Data Grid and TreeList controls to Toolbars, Menus, and Sidebars. Furthermore, DevExpress tries to help people develop solutions that work with Microsoft Office.
It was not only the controls that set Devexpress apart but in the software development industry, its customer service was also excellent. The company developed the UI control suite for .NET WinForms. Therefore, as Microsoft grew so did Devexpress in VCL and .NET products. In addition, the Company now have over 90 industry awards. So, if you would love to use applications that are inspired by Microsoft ingenuity, then you should look towards DevExpress. That is why we have put together the steps that you can take to get the DevExpress trial.
How to get DevExpress trial version
Take notice that before you can download and install the trial version of the DevExpress products, you should make sure that your system meets the system requirements of ASP.NET, WinForms, WPF, UWP.
Visit the website and click to log into your account or create a new account https://www.devexpress.com/MyAccount/LogIn
Create a New Account.
Put in your name and last name, and email address, accept the privacy policy.
Click CREATE ACCOUNT
At this point, you will be redirected to your personal page inside the DevExpress website.
So, inside your page click Download products and read the information about the first-time download of products and pay attention to version updates.
Below, you have Start "Purchase New License. And you also have the "Download 30-day trial".
Select Download 30-day trial and click it. It will take you to the Trial page https://www.devexpress.com/products/try/
Next, click the Download button
The DevExpress universal trial setup .exe file will ask for you to save it in your computer
Click to Save the file in your computer Download list
Also, Double click it to install the software and let it run.
After the installation completes, you can launch the application from your desktop and login to start your DevExpress trial.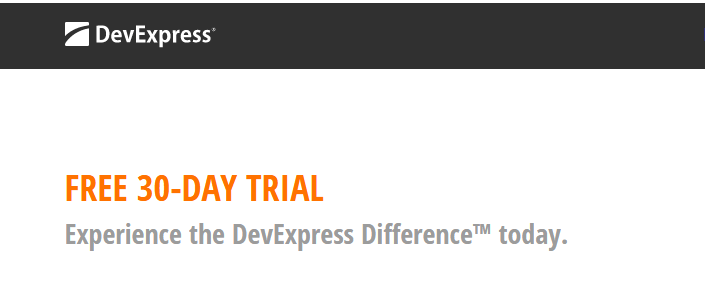 Products you can learn how to use during DevExpress 30-day trial
Here is a list of the products that you can learn to use during the DevExpress trial for 30 days. They include:
Windows Desktop Controls: WinForms, WPF Windows 10 Apps, and VCL
Web Controls:ASP.NET & MVC, ASP.NET Core, Bootstrap WebForms, JS – jQuery, Angular, React, Vue and Blazor
Enterprise & Server Tools: Reporting, Dashboard, Office File API, Report & Dashboard Server
Frameworks & Productivity: XAF – App Framework
iOS, Android & Xamarin: Xamarin.Forms Controls, Native User Interface Controls
How DevExpress Works
To help you understand how DevExpress works as you use the DevExpress trial, follow this product tutorials to see the documentation and get the technical guidance you need.
How to Download the Registered Version of DevExpress .NET
So after the 30 days evaluation ends that means your DevExpress trial has ended. Therefore, to use any of the products buy a license and download it. However, if you already have a license for DevExpress.NET products, you can download the registered version from the Client Center.
Follow this guide to do it.
This version of DevExpress software will install.NET suite containing visual DevExpress controls and components, and add them into your Visual Studio IDE. This registered version will also install demo applications that show how DevExpress .NET products function.
Furthermore, you can follow the steps below to get DevExpress registered version when the trial period ends.
Open a web browser and navigate to https://www.devexpress.com/MyAccount/. Then type in your log in ID and click the "LOG IN" button.
Find your way to the Download Manager web page: https://www.devexpress.com/ClientCenter/DownloadManager/
While on this page, click the .NET Controls & Libraries Installer link and instantly the file download process should start.
Also, after you have downloaded the setup program, run it to install DevExpress .NET products. Note that this installer has assemblies for all DevExpress .NET products. You may choose whether to install all products or only a specific set (for example, only WPF controls).
In addition, you can refer to the Install DevExpress .NET Products section to learn more about how to install DevExpress .NET products on a development machine.
Conclusion
In this post, we showed you how to get the DevExpress trial. It is simple to get from the developer's website. Also, all you need to do is to visit the website, create an account, log in to your account and click to start a 30-day free trial to evaluate ingenious products of the developer. Furthermore, we showed you how to download a registered version of the devexpress.net product. Enjoy your free trial.
Related: