Are you an engineering student or an Engineer? Do you desire to design machines that solve real problems for people? Do you need software and support that would enable you to become more productive as a person or an organization? Then look for LabVIEW. In this post, you will learn how to get the LabView free trial.
What is LabView? LabVIEW is an engineering software that follows systems. Also, you can use it for applications that need testing, measurement, and control with fast access to hardware and data insights. The programming environment in LabView makes the integration for hardware easy for engineering applications.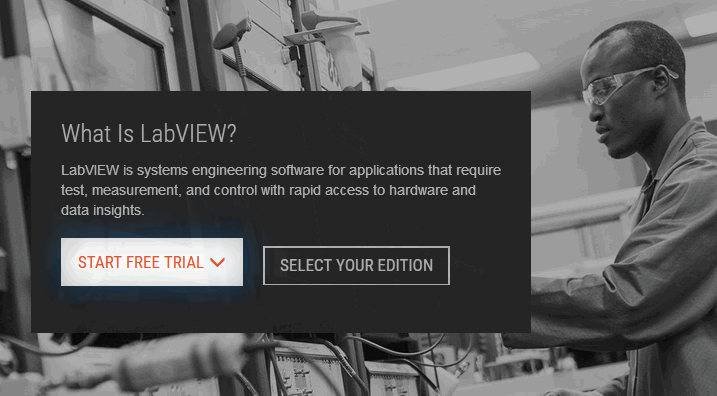 Also, you are able to use a simple way to get Data from National Instruments and third-party hardware. This reduces the difficulty you face during programming to enable you to tackle the engineering task at hand. With LabView, you can visualize results with its integrated user interface that also enables you to drag and drop data easily. Additionally, you can turn the algorithms that you have developed into real business using LabVIEW advanced software. In addition, this software has diverse tools you can use with other engineering applications without compatibility issues. By now we know you would be interested in testing this software when you consider all that it can do for you. So, in the post, you will learn how to get the LabVIEW free trial download.
Labview Free Trial Download (Windows/Mac)
Features Of  LabVIEW 2019 software
When you download this software you will get to use a fully functional product in your LabVIEW free trial. Here are some great functions.
You can use hardware auto-discovery and interactive panels
Fast integration to NI hardware and third-party devices
apply integrated data capture and analysis tools to gain insight
Work Seamlessly to Integrate Your Hardware with app
Simply integrate Analysis and IP to Save Time
You can Visualize Data to Manage Your System better
Steps for getting the LabVIEW free trial
Start from this LabVIEW page where you will select the edition you want to buy or try. Click https://www.ni.com/en-za/shop/labview/select-edition.html
Click on FREE TRIAL
The new page that opens is for DOWNLOADS. Here you have to select the operating system you use, version of the software- choose whether 32 bit or 64-bit, Check either Base, full, or professional software, and Runtime if not immediately, Next, select your language, select drivers by clicking "Yes"
Also, you have a form that shows LabVIEW 2019 Drivers, Release Date, Versions 2019 supported OS, language, checksum, and file size 3.64 MB and DOWNLOAD.
Click on DOWNLOAD
That action redirects you to a page for filling a National Instruments User Account or if you already have an account you should log In.
Also, Enter your first name, last name and email address and password (there is a notice that you should use your work or company email address because it will be your NI Account login.
Next, click on CREATE ACCOUNT. At this point, NI will send you an email to confirm your account
So, check your email and click a link on the email from NI to confirm your account and click CONTINUE
At this point, you will see a new page with the message Downloading LabVIEW 2019 with the Drivers and the .exe file of 3.6 MB. Click on Save File to download it.
Also, to run it double click the installer and let it run and then launch it to use your LabVIEW free trial which lasts for 7 days. Just log into your personal page to explore the website and start using your LabVIEW trial.
Note that you can do step 12 only if you buy a product.
The next steps you should follow include Registering your software, Activating a license to enable you to use the full features of the software, and Automate Software Installation on Multiple computers
Click the link to register the software. Enter your role, company, and phone number, and click CONTINUE.
Next Register the Product. Put the serial number of the product. Learn How. However, note that only products bought with money have a serial number.
Facts You Should Learn About the National Instruments Downloads
You can only use the product for 7 days during the trial period.
You cannot activate the product unless you buy it.
In addition, unlike other products that need you to activate before you start using it, this NI software does not require activation to use it.
What Can You Do With LabVIEW 2019 trial version?
What can you do with the LabVIEW free trial? You can do a lot. For instance, LabVIEW helps you to solve engineering problems across many ranges of application. First, you can design smart machines or Industrial Equipment quicker with the help of LabVIEW. Read more.
Secondly, you can teach Engineering Students in a classroom or lab, with real-world systems using LabVIEW to increase the rate of discovery, build solutions faster, and improve success. Read more.
Editions and Prices
There are three and the prices vary due to the features and added support you will get from National Instruments. Also, they have key differentiators. In addition, out of the three editions, LabVIEW professional has the highest features. And NI recommends it for applications requiring code validation. It also has code and application deployment capabilities. Furthermore, you can get many software engineering add-ons for it too. As for operating system requirements, Labview supports Windows, Mac, and Linux operating systems.
Prices of the 3 Editions
LabVIEW Base $440/year
For LabVIEW Full the price is $3,465
LabVIEW Professional $5,775
Conclusion
In this post, we showed you how you can get LabVIEW free trial. You can download the LabVIEW software for either Mac, Linux or Windows. Furthermore, you need to specify your operating system and whether it is a 32 or 64-bit computer. Also, register with NI with your name and email address.  Finally, you can use the software for 7 days only. So, get it now and make those designs to solve problems for your community.
Related: