In this post, you will learn how to start your YouTube TV free trial. Youtube is a popular television and video streaming platform that gives you the room to produce and air your videos in your own channel. However, it also has a subscription-based television service that offers the streaming of programming on live TV broadcast on over 70 local network platforms and regional sports networks across the United States of America. So, when you subscribe to YouTube TV, you will able to see popular shows and use DVR with unlimited storage space, and also get 6 accounts yet pay for only one at $49.99 per month. Furthermore, you can watch shows on different devices like mobile phones and tablets,  television and gaming consoles, Roku and your web browser using your computer. In addition, YouTube Originals and trending YouTube videos are parts of YouTube programs.
Moreover, you have a chance to test-drive its service in a 14-day YouTube TV free trial. But you must register with your credit card to get the trial and it does not accept buying a subscription with prepaid credit cards. Also, to stream a YouTube show on high definition, you need 7+ Mbps and 3+ Mbps for a standard definition video. But if other devices are using the internet on the same network, you will need about 13+ Mbps to stream shows in high definition. Therefore, for you to enjoy this powerful programming free, let us show you how you can get the youtube tv free trial now.
How to start YouTube TV free trial
Go to tv.youtube.com on your internet browser to sign up.
And click on the button to try it free.
Finally, sign in with your Google account.
or
First, go and download the YouTube TV app. From google play store
Then open the app, and tap the icon to start your free trial.
Finally, sign in with your Google account.
Confirm where you live or location
Part of your personal information that you will share with YouTube when you sign up, is your location or home zip code. You may have to do that by switching your device location to the on position. This will enable YouTube to give you access to the right local network.
Modify what you want to watch with your membership
Go through the networks added in your YouTube TV membership. That is where you will see the price of your membership and the date you will be billed.
After viewing this information, click on Next to go to the next step.
Also, you may add some premium networks to your membership by clicking on a round icon near a network. When you do that, the price of your next bill will be adjusted automatically. In addition, you may add many premium networks during your free trial.
Now, when you finish choosing what you like to watch, click Continue
Next, choose your payment card to pay for your membership. And note that your credit card will not be billed immediately. But you will get a bill when your free trial ends. And, you may also cancel at any time.
Note that when you submit your credit card details, YouTube TV will verify your credit card with a small fee. Which is reversed automatically after verification that your card is active.
Finally, click Buy to finalize the sign-up process. Enjoy your YouTube TV free trial.
Networks in the YouTube TV free trial package
YouTube TV programming package includes live TV from over 70 broadcast, cable, and regional sports networks. You can confirm which networks you can see in your home area, by entering your home zip code at tv.youtube.com/welcome.
In addition, you can have Premium networks, like Showtime and NBA League Pass, as an add-on with an additional monthly fee. So, to find out the add-ons that you can watch, check your membership settings on YouTube TV or send a message to support.
 Supported devices
You can watch YouTube TV on many devices and platforms like your computer web browser, mobile device, and some Smartphones and tablets. Find out the exact System requirements depending on your device.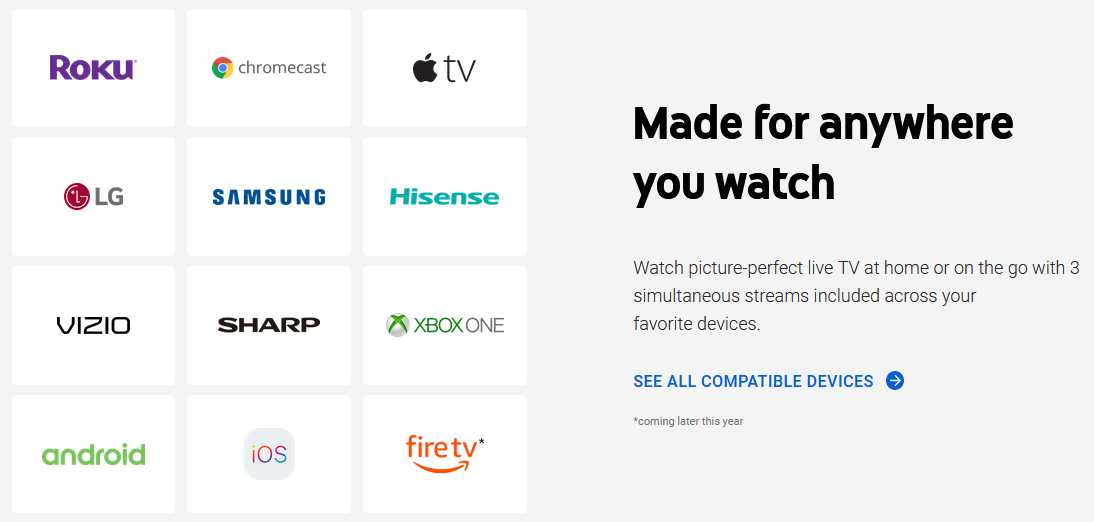 You can also stream YouTube TV to your TV using, TVs with Chromecast built-in (e.g., Android TV), AirPlay for Apple TV, Google Smart Displays and Chromecast devices.
Additionally, you may also download the YouTube TV app on some devices to watch YouTube TV on your TV.  The TV app is compatible with:
Android TV
every Vizio SmartCast TVs
and Samsung & LG smart TVs (2016 models and latest)
Hisense TVs (models: MTK5658, MTK5659, MSD6586)
Also, use it on Apple TV (4th generation) and Apple TV 4K
watch on Xbox One, plus Xbox One S, and the Xbox One X
You can use Roku: All Roku TVs, Roku Ultra, Roku Streaming Stick+, Roku Streaming Stick (3800x, 3600x), Roku Express/Express+ (3910x, 3900x, 3710x, 3700x), Roku Premiere+, Roku Premiere, Roku 4, Roku 3 (4200x, 4230x), and Roku 2 (4210x).
You can use your computer, Android, iPhone, and iPad to watch YouTube TV. Whereas for computers, you need to have the newest version of Google Chrome or Firefox to get the best viewing experience on HD.
Cancelling your YouTube TV free trial subscription
To cancel your membership:
Go to https://tv.youtube.com using your web browser.
Next, click on Deactivate membership and then
Cancel membership located under "YouTube TV membership."
Conclusion
In this article, we explored how to start YouTube TV free trial. Moreover, you can get the trial by signing up on the trial page and entering your payment card. In addition, you can use the service for 14 days. And, can cancel anytime before the trial ends to avoid recurrent billing of your payment card.
Related: