If you wish to dump the pay-TV providers and still want to watch all the shows and movies you love, then you could look the way of the Sling TV as a replacement. Besides you subscribe for the Sling TV free trial offer and try out the service for a week at no cost.
Sling TV is one of the prime Over-The-Top services you can rely on, on the Internet if you want to stop using cable television. Furthermore, Sling TV has a huge array of programming that would make it easy for you to make that change. For instance, they have programs that you like such as Food Network, CNN and HGTV, Disney Cartoon Channel, ESPN, NFL Network and so on. With all these choice programs, you may be wondering how it works. Well, Sling TV is an online streaming service that let you watch TV live on the internet.
Sling TV is like the other companies that provide similar services such as Amazon and Hulu, YouTube and Philo. Except that Slings main preoccupation is to give you Live TV. But, for you to get Sling and start enjoying awesome movies instantly, you must register an account. And then submit your credit card information before you can download the Sling TV application. To bring you closer and faster to the Sling TV free trial, let us explain how you can get subscribe. And begin to enjoy a live broadcast of choice shows and epic movies live as they are broadcasted.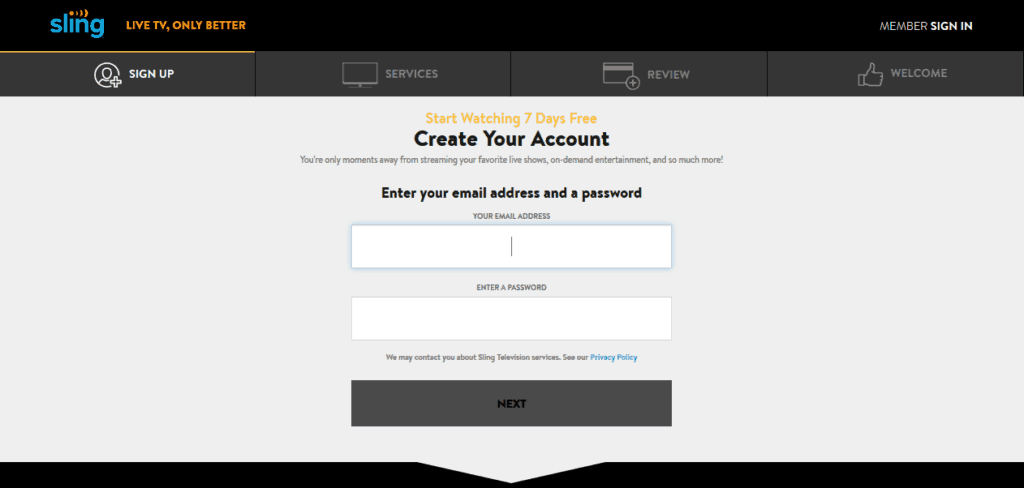 Starting Sling TV free trial
Visit the trail website at Sling.com, and click on "Watch Now 7 Days Free.". And you may also choose  "Get This Offer."
And enter your email address, and create a new password and then click on Register. This action will create your new Sling account.
Next, choose a service package you want to try. Your options are Sling's Orange, Blue, or Orange-and-Blue combined pack. Also, note the differences between the prices and their features. For example, Orange gives you 30 channels for $20 a month, while Blue packs consist of 45 channels for $25 per month, and the combined plan which gives you over 50 channels and costs $40 per month.
Additionally, look through the extra channel options. If you chose to have add-ons, you will pay more for the shows you select. Some of the add-on's you could consider, are HBO, Showtime, Epix, CMT, and so on. On the alternative, Sling allows to you pick and to add 50 hours of Cloud DVR storage when you opt-in for add-ons. Therefore, after making all your choices, click on Continue.
And then, enter your credit card information. Note that after the trial ends in 7 days, you will receive a bill on your credit card automatically. Unless you cancel before the trial ends.
Finally, once your payment is processed, then you can begin to watch premium content in the Sling TV free trial.
Sling TV supported devices
Go and download the Sling TV application for your computer and start watching. Also, you can use Apple Tv. Just sign in with your sling account credentials and start watching you blockbuster movies streamed on high definition. The following, are other devices that you can watch Sling TV. They are:
Windows computer
Your iOS Devices (iPhones and iPads)
And Android Devices (Phones, Tablets and Android TV)
Roku Player
LG Smart TVs
Fire TV
Chromecast
Xbox One
Google Chrome browser
How to cancel your Sling TV free trial
Sometimes you may decide to cancel your Sling TV subscription. To do that without getting billed a monthly recurrent charge, follow these steps. But note that your trial will be stopped instantly.
Log in to your account on their website.
At this point, you are redirected to your account settings page, So click on 'Cancel Subscription'
And choose a reason for cancelation and click on 'Continue'
Also, click 'Cancel My Subscription'
And finally, type in your password and choose' Cancel My Subscription'
Price and Plans
There are 3 paid plans that you can choose from they include:
Orange that gives you 30 channels for $20 a month
the Blue package gives 45 channels for $25 per month
the large plan that combines the orange and blue plans, gives you over 50 channels and costs $40 per month.
Conclusion
In conclusion, we analyzed how to get Sling TV free trial. In addition, to get the trial visit the trial page and enter your payment details. Then select a plan and download the Sling TV app and start watching your favorite shows on the network.
Related: